If you are interested in investing in U.S. stocks, ETFs, indices, virtual currencies, gold, etc., but don't want to open several investment accounts dealing with different brokerages, banks, and platforms, then eToro is perfect for you.
Founded in 2010 and based in the U.K., eToro has established itself as the world's leading social trading platform with over 17 million users in approximately 100 countries.
eToro makes it easy to register and open an account. The platform lets you trade hundreds of different financial assets across many categories, including stocks, commodities, cryptoassets (cryptocurrencies), currencies, indices, and ETFs.
While eToro's trading platform is simple and intuitive, there are a few things you can do to ease the start of your online trading journey. This eToro tutorial for beginners will teach you how you can use eToro to sign up and register for your trading account in as little as 10 minutes.
1. eToro Beginner's Guide: How To Open Your Account

Step 1:
First, get to the eToro sign-up page here. Then click on Join Now to start the account creation process.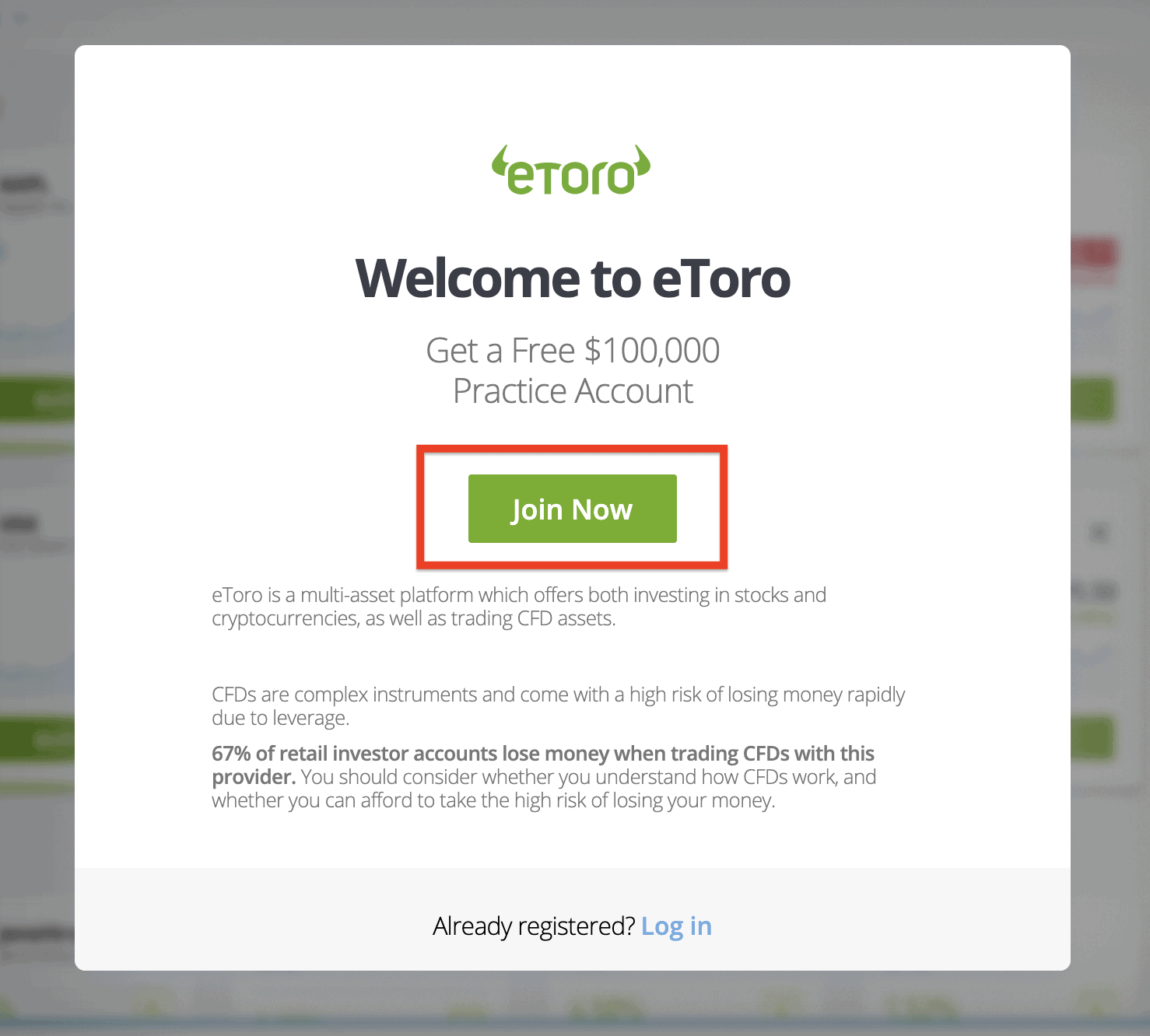 Step 2:
Enter your username, email, and password.
Go through the Terms & Conditions, Privacy Policy, and Cookie Policy. After you've read them, tick the corresponding boxes to signify consent.
Now you can click on Start Trading.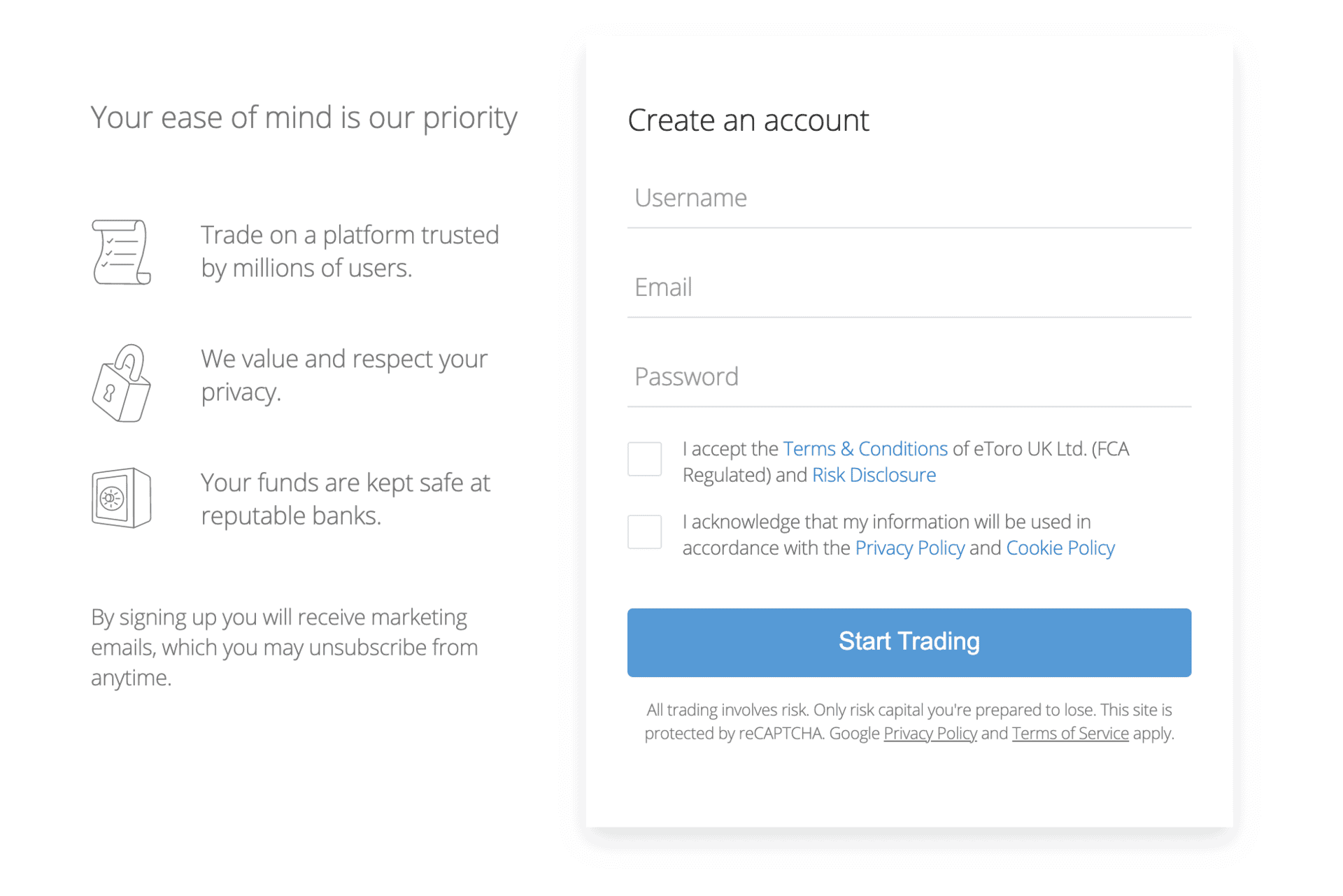 Step 3 :
Immediately after filling in your details, you'll be brought to your eToro dashboard. The webpage will prompt you to click on Complete Profile, where you will have to verify your identity on eToro (together with verification documents) to start real-world trading.
You don't have to do this right away. At this point, if you're still not ready to invest with real money, you can trade with paper money using eToro's Virtual Portfolio feature (you can toggle this anytime from the left sidebar). Using this virtual investment account, you can practice trading without having to worry about losing any real money.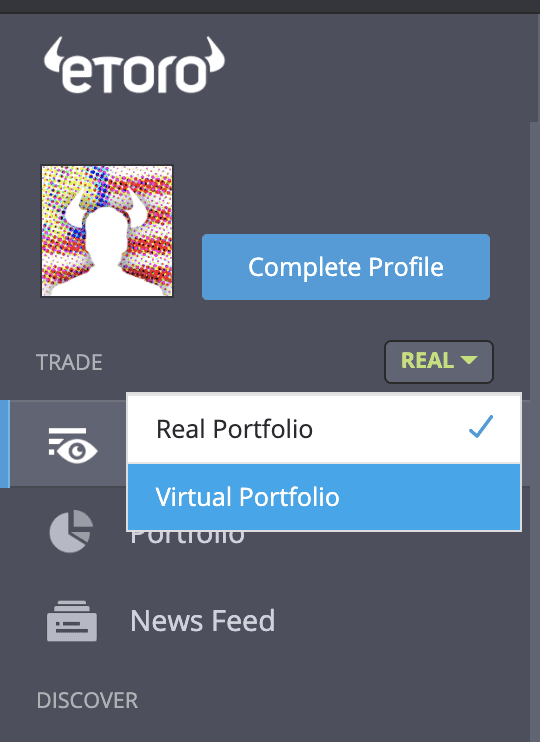 When you're ready to start your eToro account verification process (and start investing some real money!) click on Complete Profile and read the next section in this guide.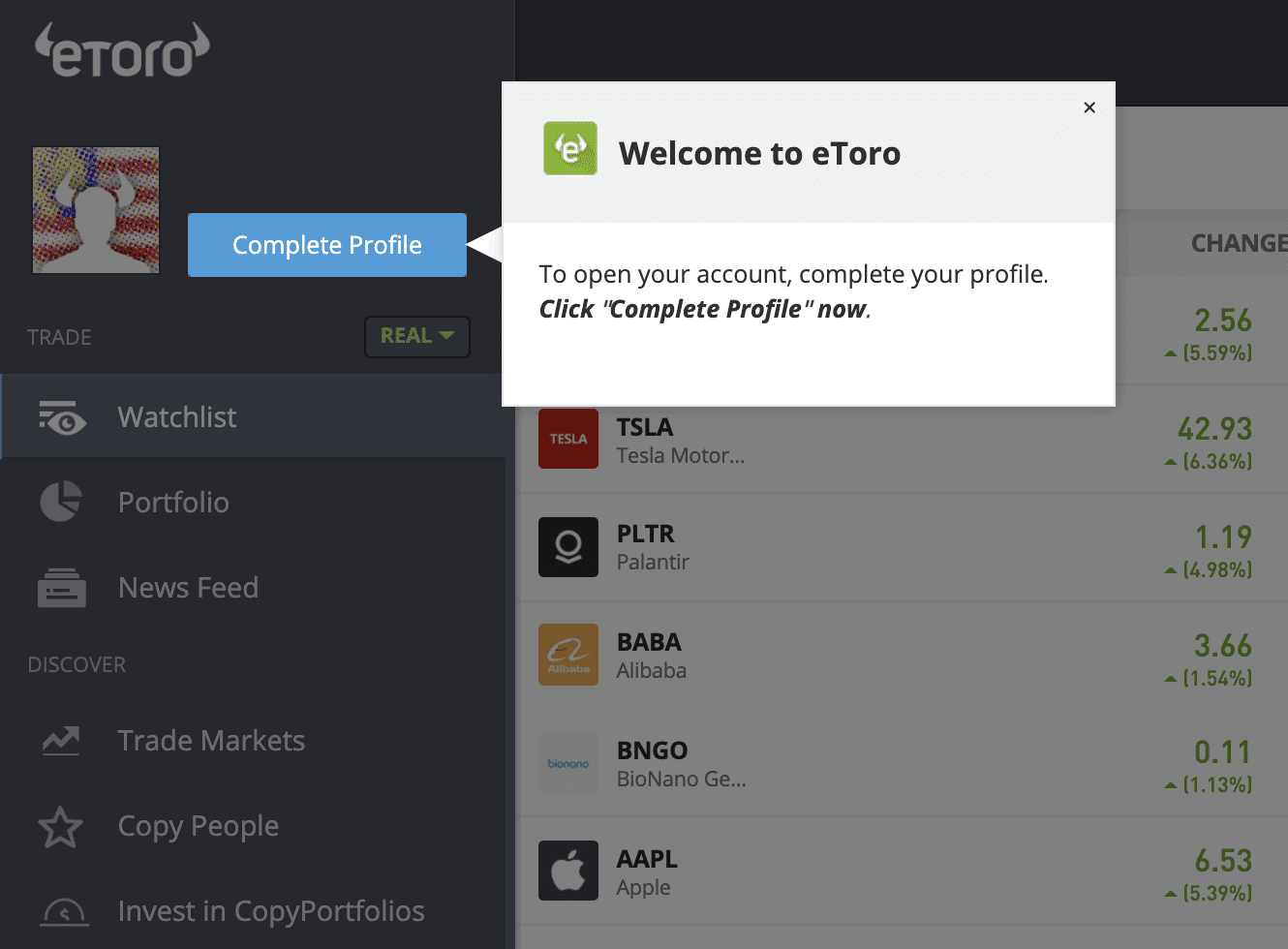 Like any broker, eToro requires verification documents as part of the registration process. This helps ensure that your account conforms to regulatory requirements and that the platform is protected from any malicious activity.
The eToro account verification process is essential as you won't be able to use most of the real-world trading functionality on eToro without first getting verified. Non-verified accounts are limited when it comes to trading, withdrawal of funds and account closure.
2. eToro Account Verification Process

Step 1:
After clicking on Complete Profile, You will be greeted with a Complete Your Profile screen. Your actual personal details are used for real-world transactions, so ensure that any info you provide from now onwards is accurate and factual. False information will cause problems during the authentication process later.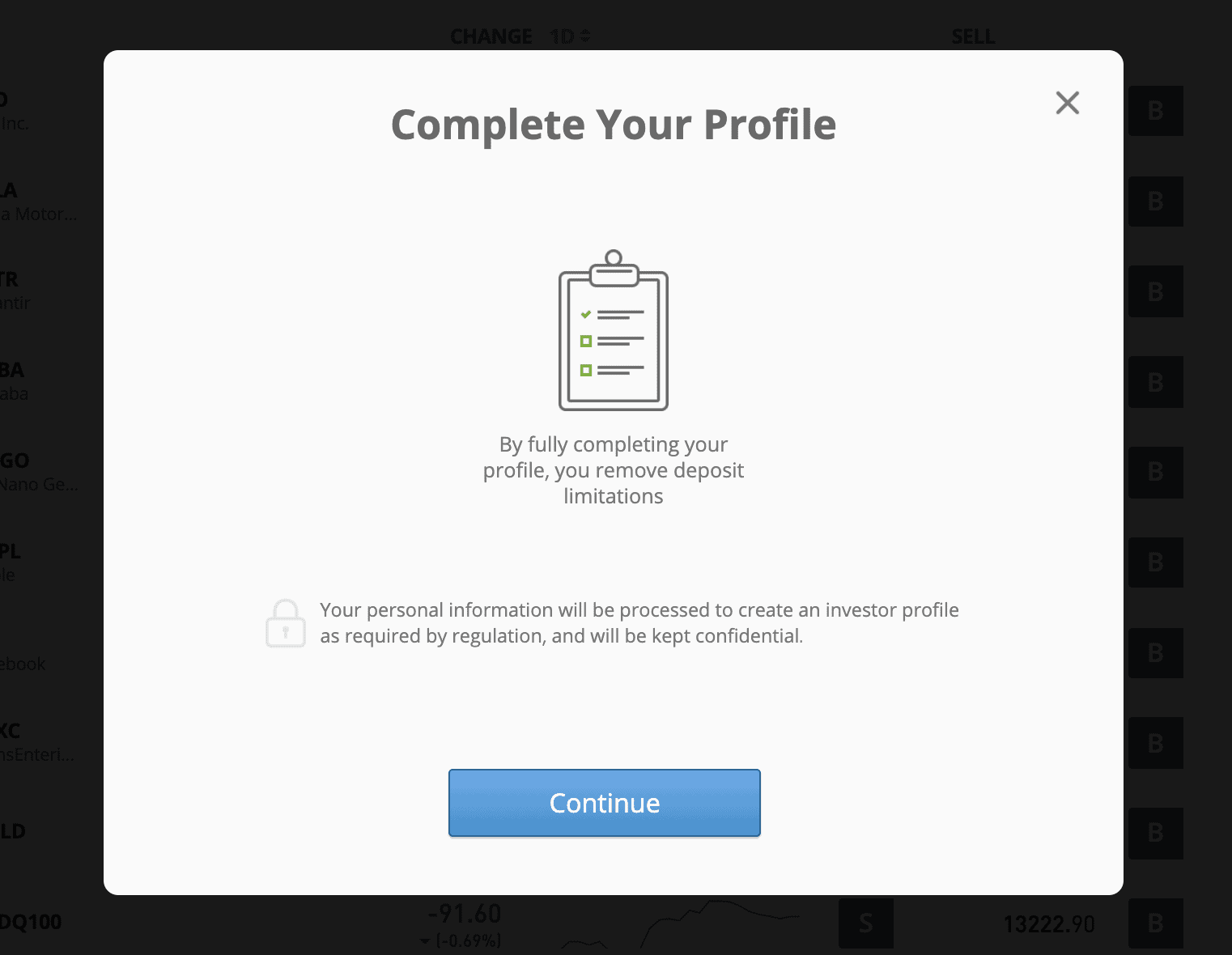 Click on Continue.
Step 2:
Fill in your Name, Gender, and Birthday. Note that all information must be the same as that on your IC or passport.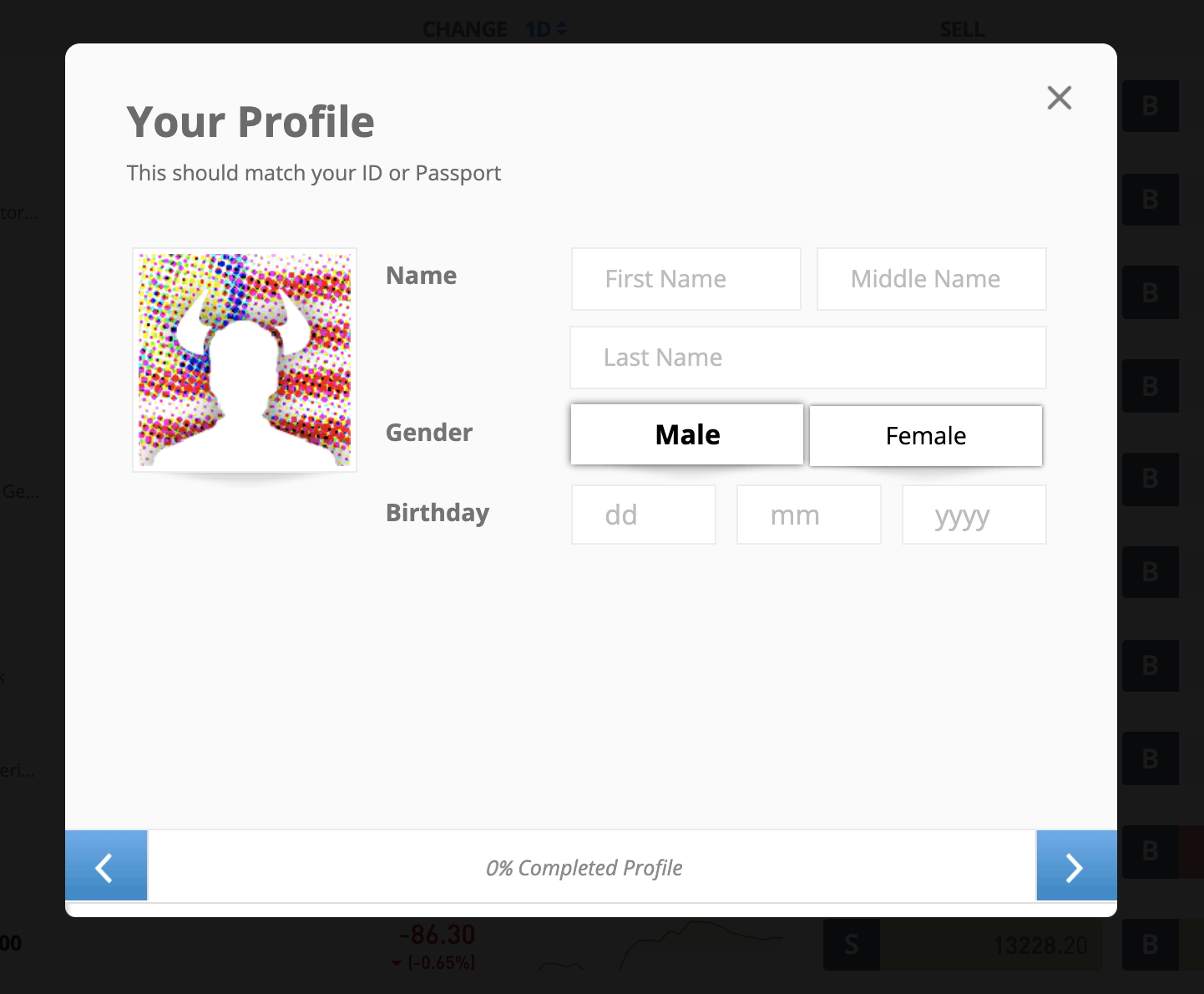 Click on the Right Arrow. You'll then have to fill in your address details and passport number.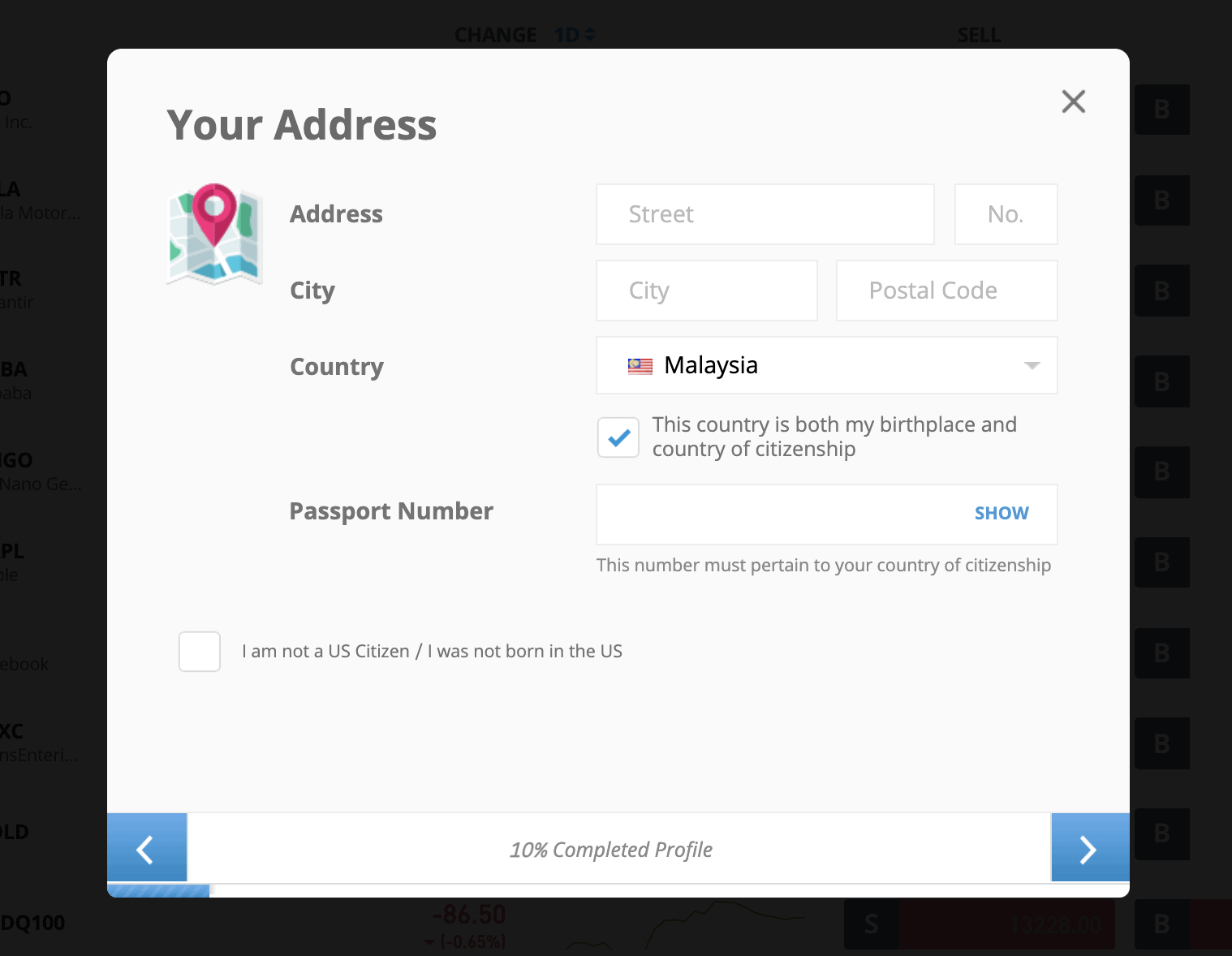 You'll see a small line at the bottom left of the pop-up:
I am not a US Citizen/I was not born in the US
If you are not a US citizen or were born in a country other than the US (such as Malaysia, Taiwan, or Singapore), remember to check this box.
When you're done, click on the Right Arrow again.
Step 3:
Fill in your investing experience.
eToro will ask you how many times you have invested in equity (stocks, ETFs, etc.) and cryptocurrencies in the past year.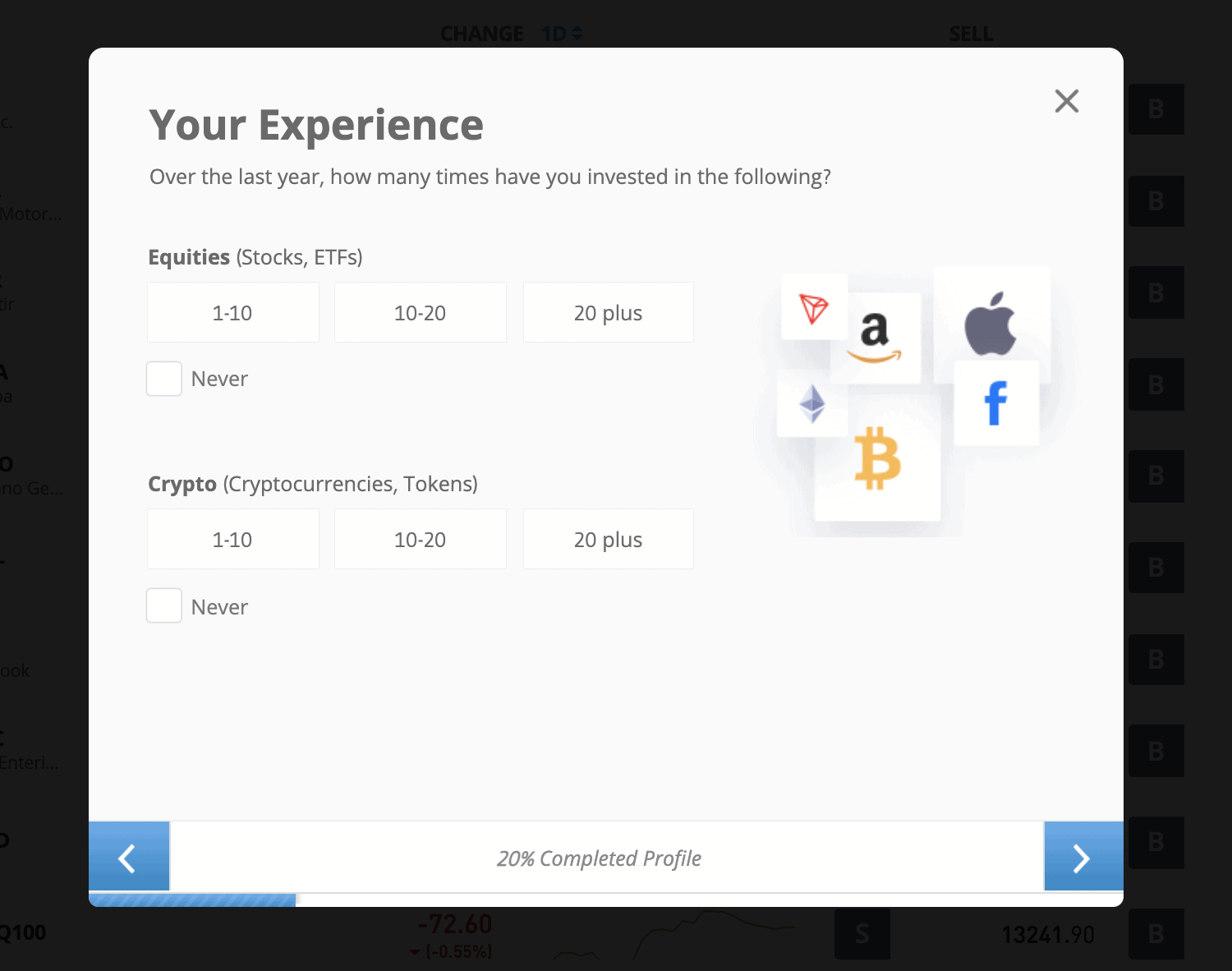 How many times have you used leveraged investments (contracts for difference, futures, options, etc.)? What is the total amount you've invested?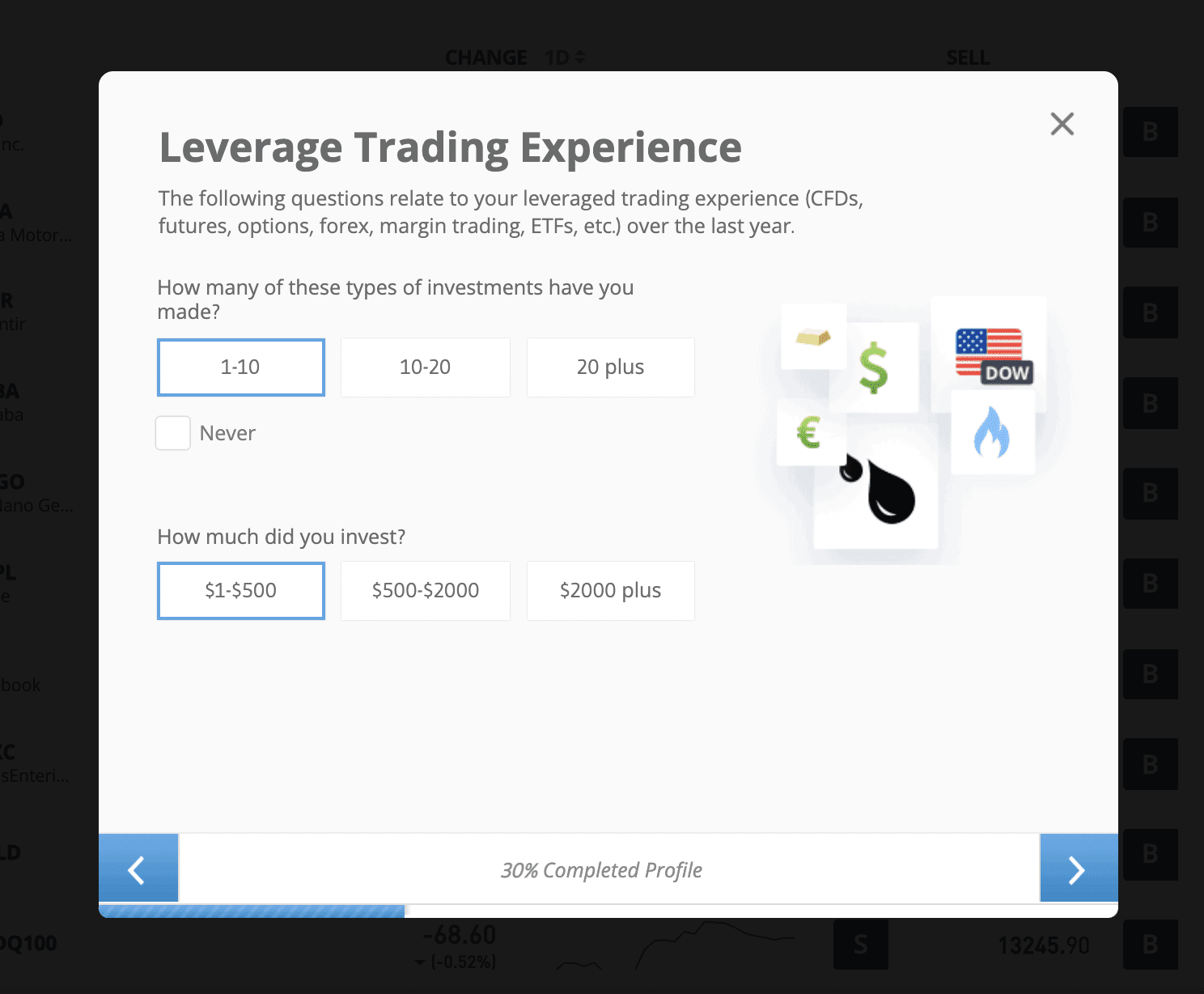 eToro will ask if you have any trading knowledge. You can select that you either have a professional certificate or relevant work experience (such as being a stockbroker), have a degree in a finance-related field, or attended a trading course. Note that you can select more than one option.
If none of the above applies to you, just check I have no financial knowledge.
Next is the eToro trading knowledge assessment. Tick the answer that you think is suitable.
This is eToro's way of figuring out/mitigating risk for new users by testing their pre-existing financial knowledge. CFD trading opens up grand possibilities for traders that would not be possible with traditional investing, but it can also a challenge for new users (based on this assessment, some limits will automatically be adjusted by eToro after you open an account).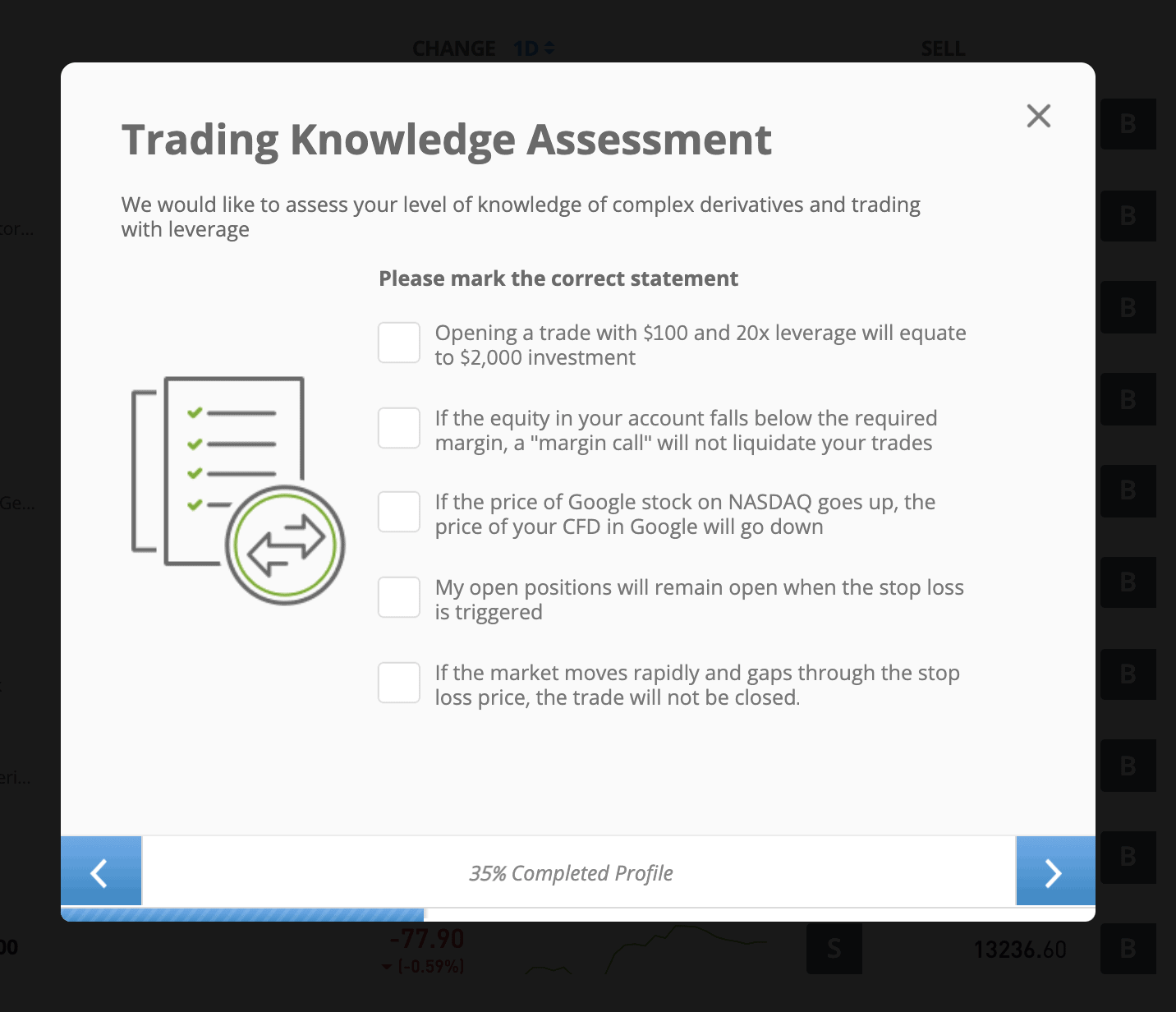 Step 4:
eToro will ask you to select which financial products you plan to invest in: stocks, cryptocurrencies, currencies (foreign exchange), commodities or indices.
You can select more than one.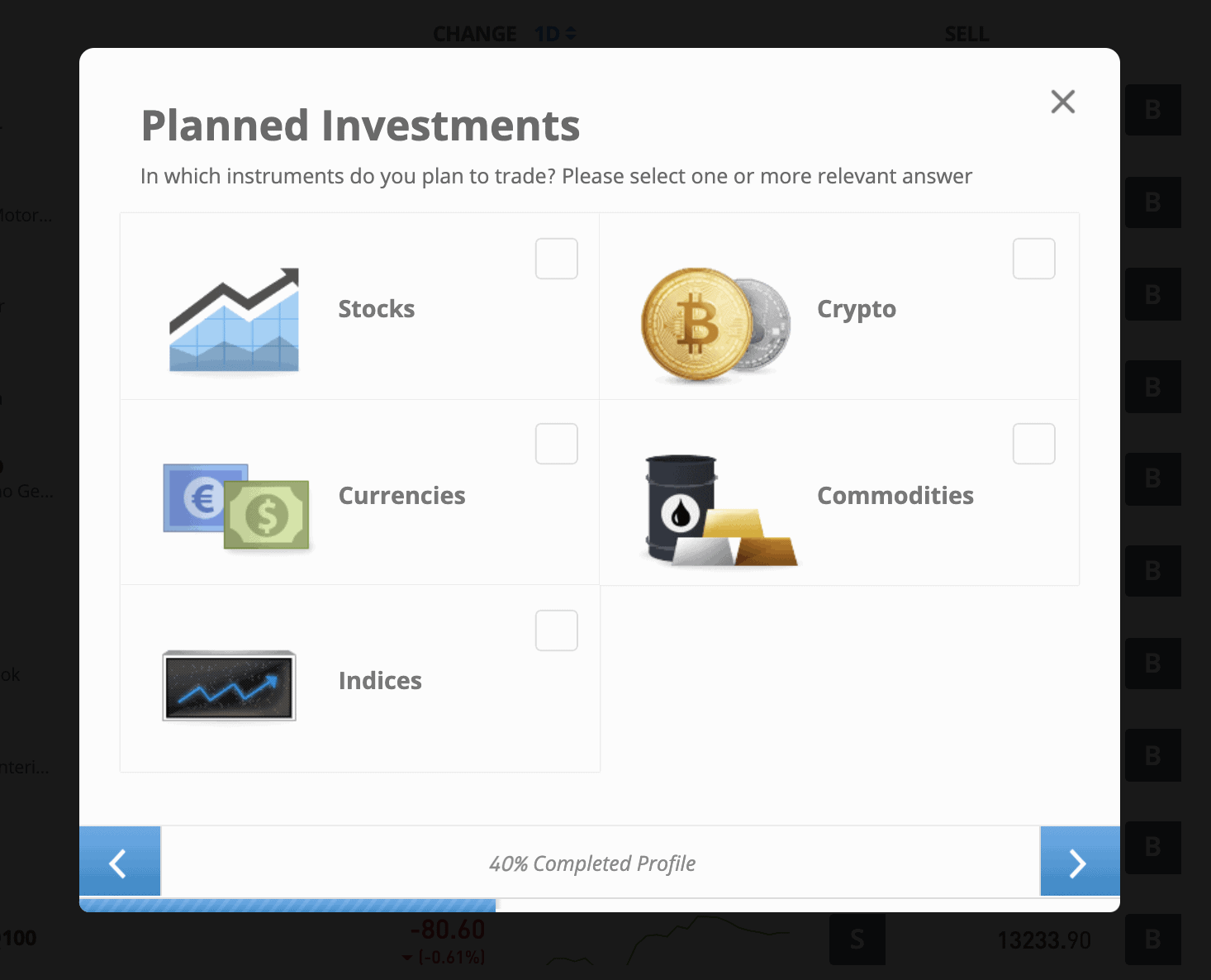 What is your trading strategy? How long do you plan to hold onto an asset? You can select from: a few seconds to 24 hours (intra-day trade), a few weeks to a few months, or more than several months/years (long-term holding).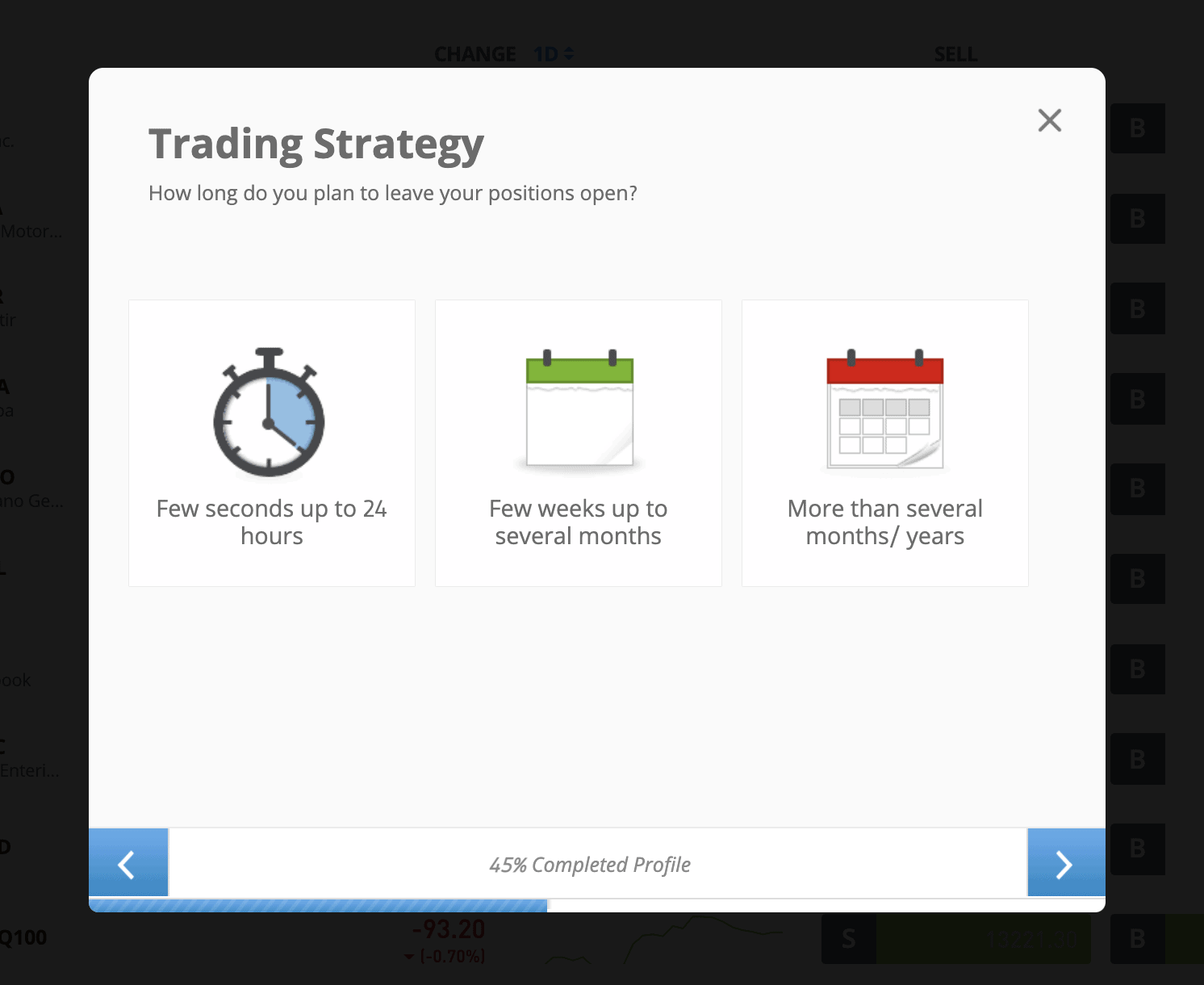 Select your purpose for trading. Whether it's for short-term returns, obtaining an additional income, a future fund (children's education fund, retirement planning), or saving for a home.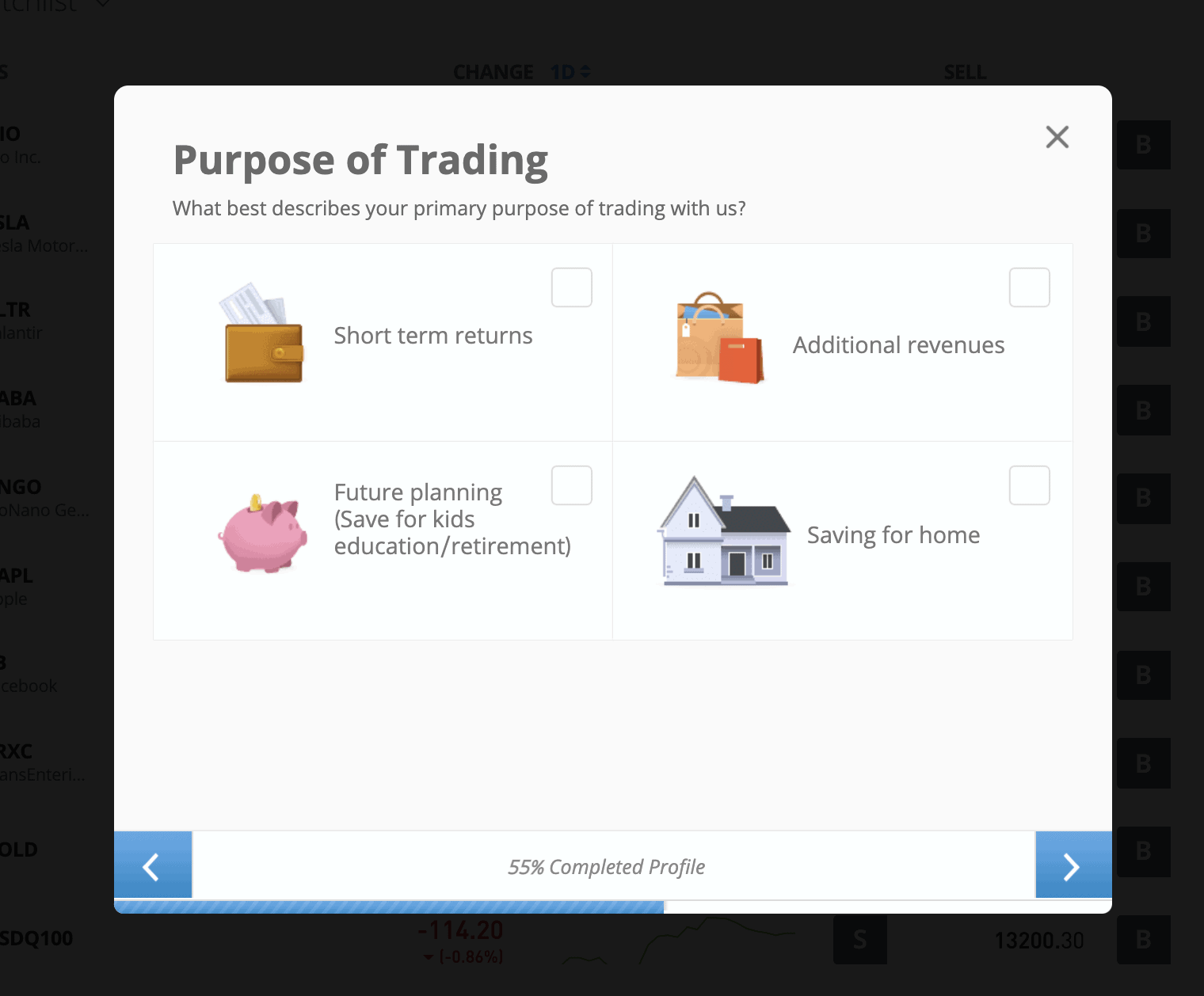 In this next section, you'll be asked to identify your attitude to risk.
How much money do you plan to invest in a year? What is your expected return ratio of risk and return? Green represents profits, while red represents loss. In the stock market, higher returns usually come with higher risks.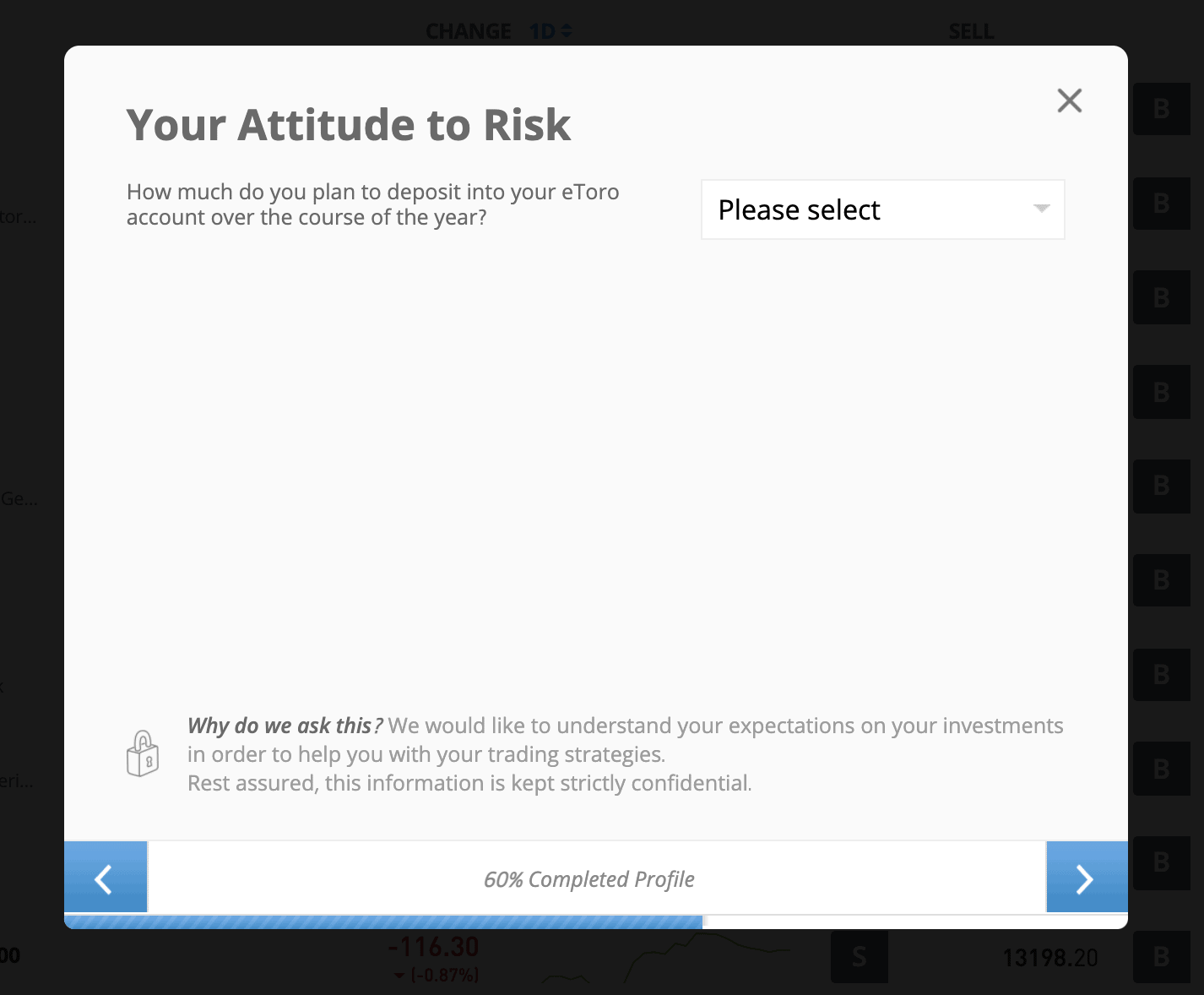 Step 5:
Declare any special relationships you may have.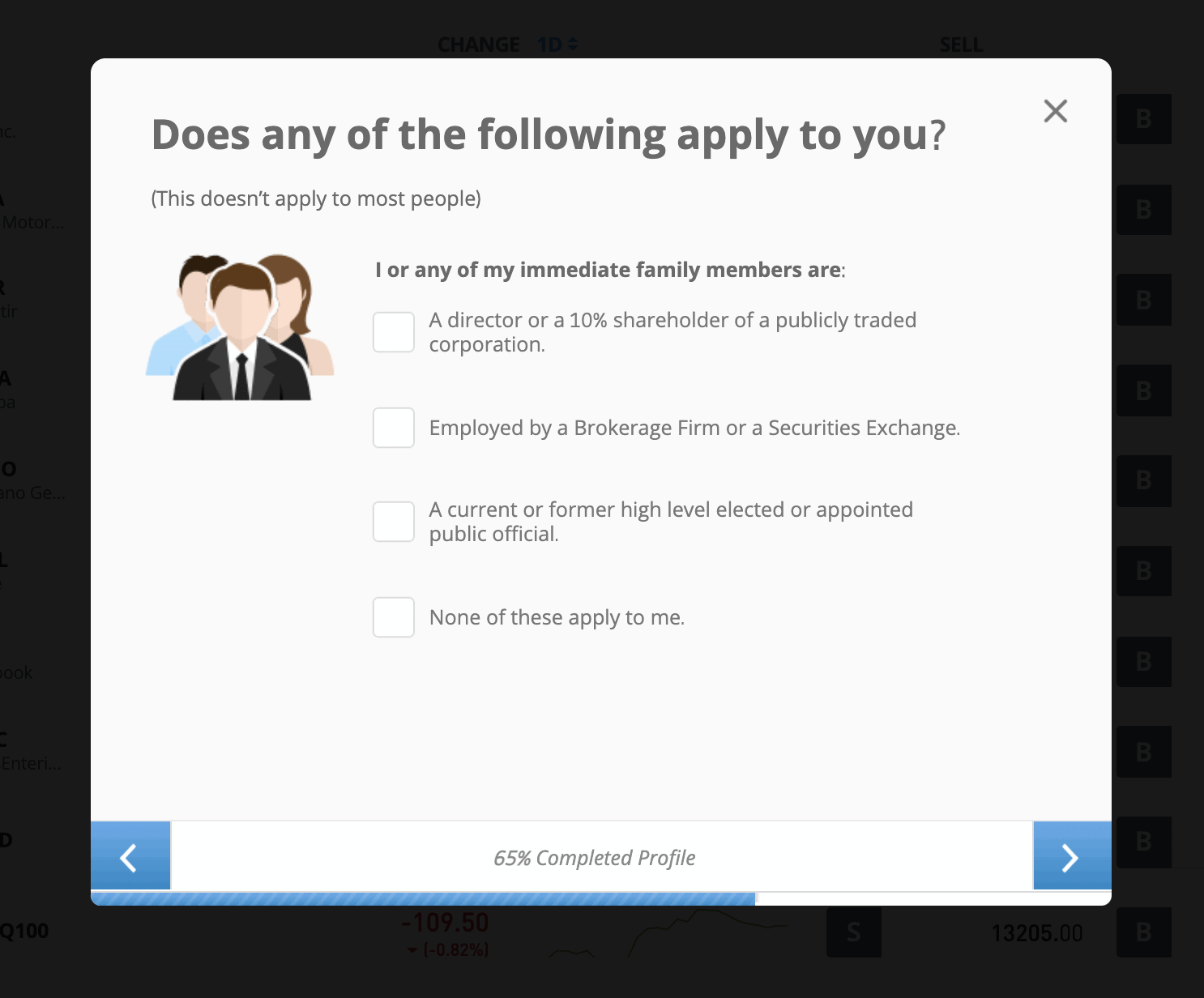 If you have a family member who is a director of a public-listed company or holds over 10% of shares in a public-listed company, works in a stockbroker or an exchange, is currently or has served as a senior government official, you should declare it here.
If none of these apply to you, tick None of these apply to me.
Step 6:
eToro needs your financial status before you open an account to trade.
Fill in your source of income, occupation, company name, annual net income (after deduction of PCB, EPF, SOCSO, EIS) as well as total cash and current assets (savings account, brokerage accounts, etc.)
Step 7:
We are now in a vital part of the verification process: Verify Your Identity. You should cross-check all the information provided from here onwards.
Fill in your MyKad (IC) number, without the hyphens.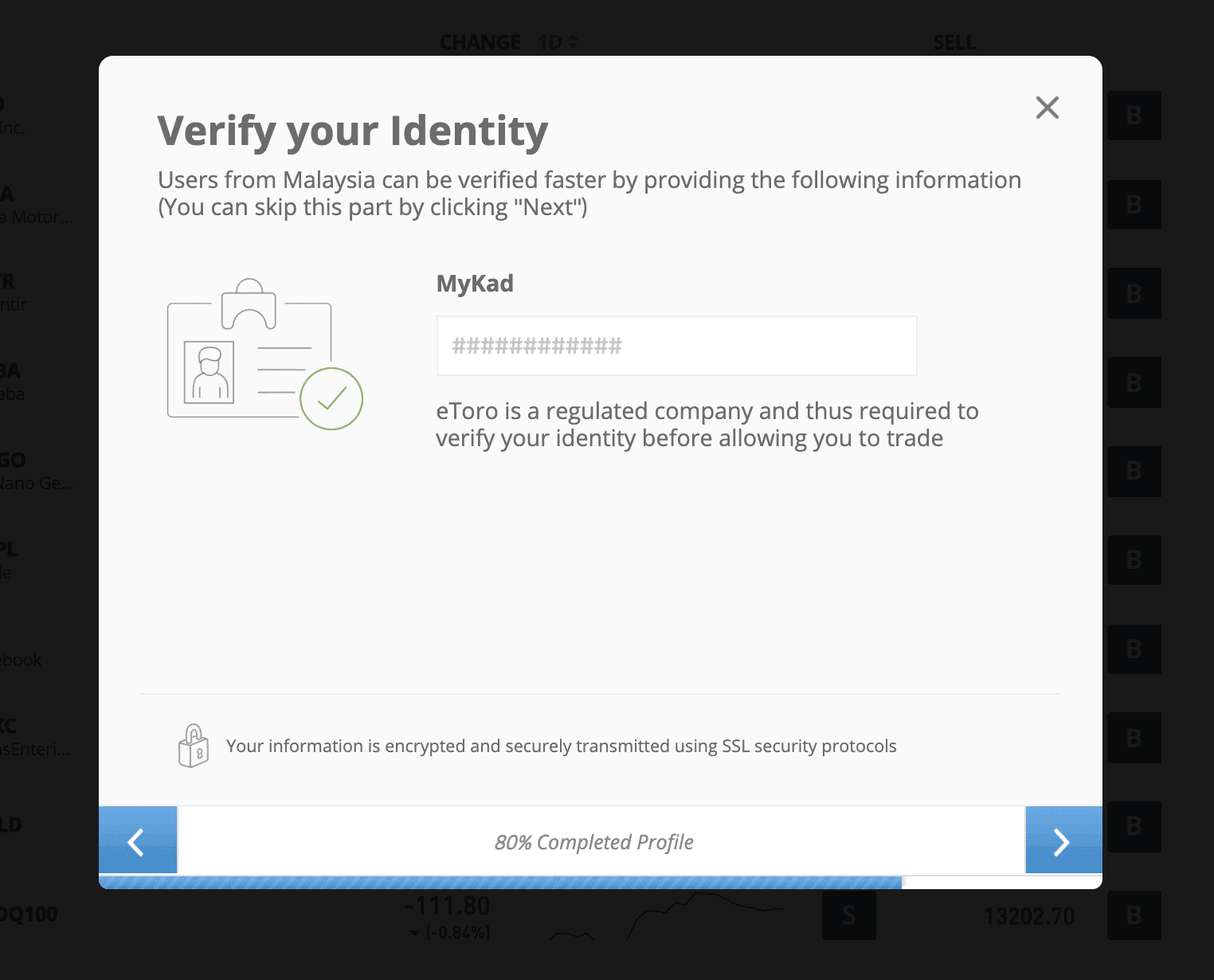 eToro will evaluate and assign a service package ideally suited to your profile. This takes into account your previously answered questions on your professional status, level of knowledge of the capital markets, financial liquidity, acceptable levels of risk, investment goals, etc.
You can modify this information at any time.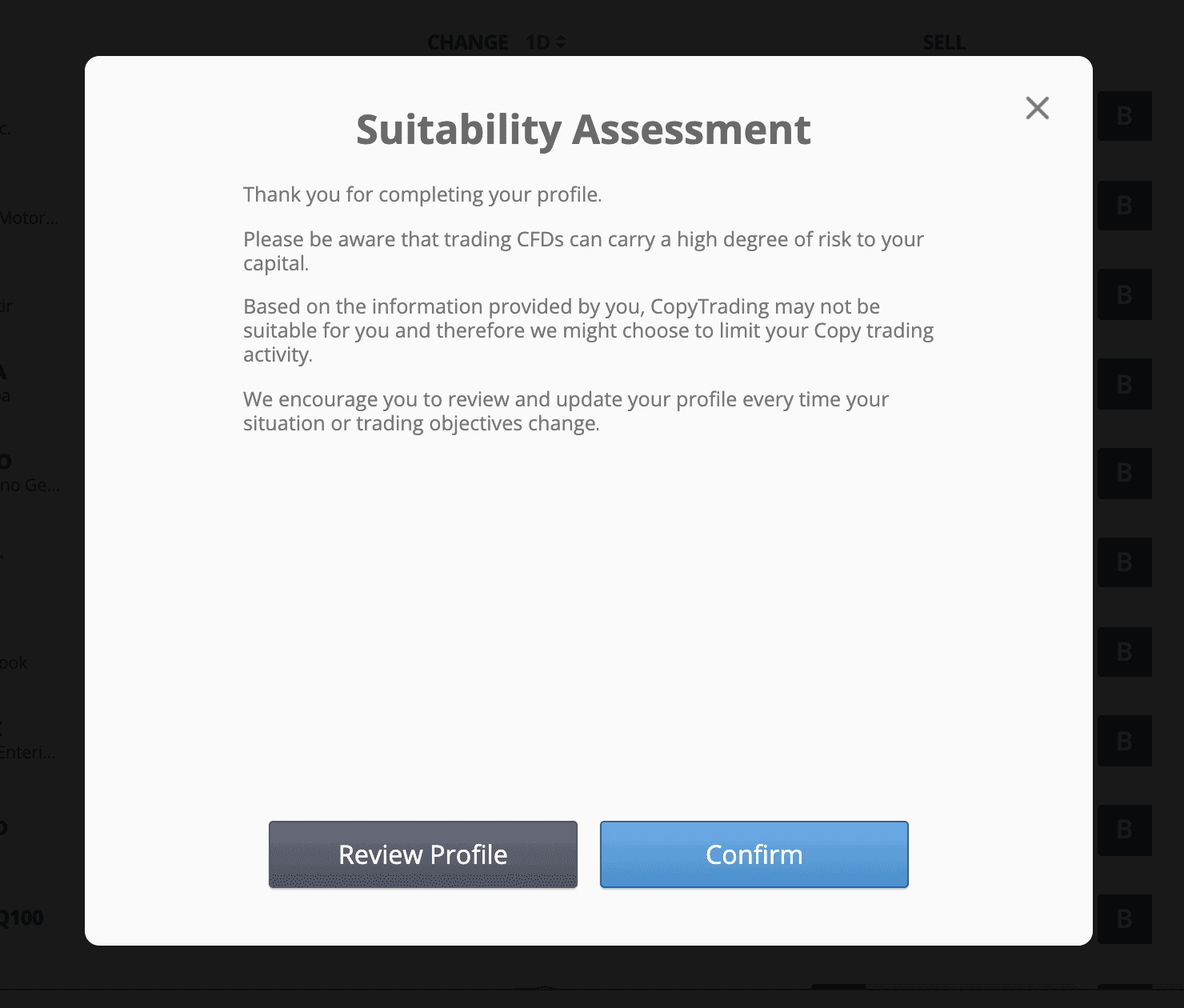 eToro will now Verify Your Phone.
Select Malaysia (+60) as your country code and type in your phone number without the "0" in the front. For example, if your phone number is 016-423 xxxx, then you should type 16-423 xxxx.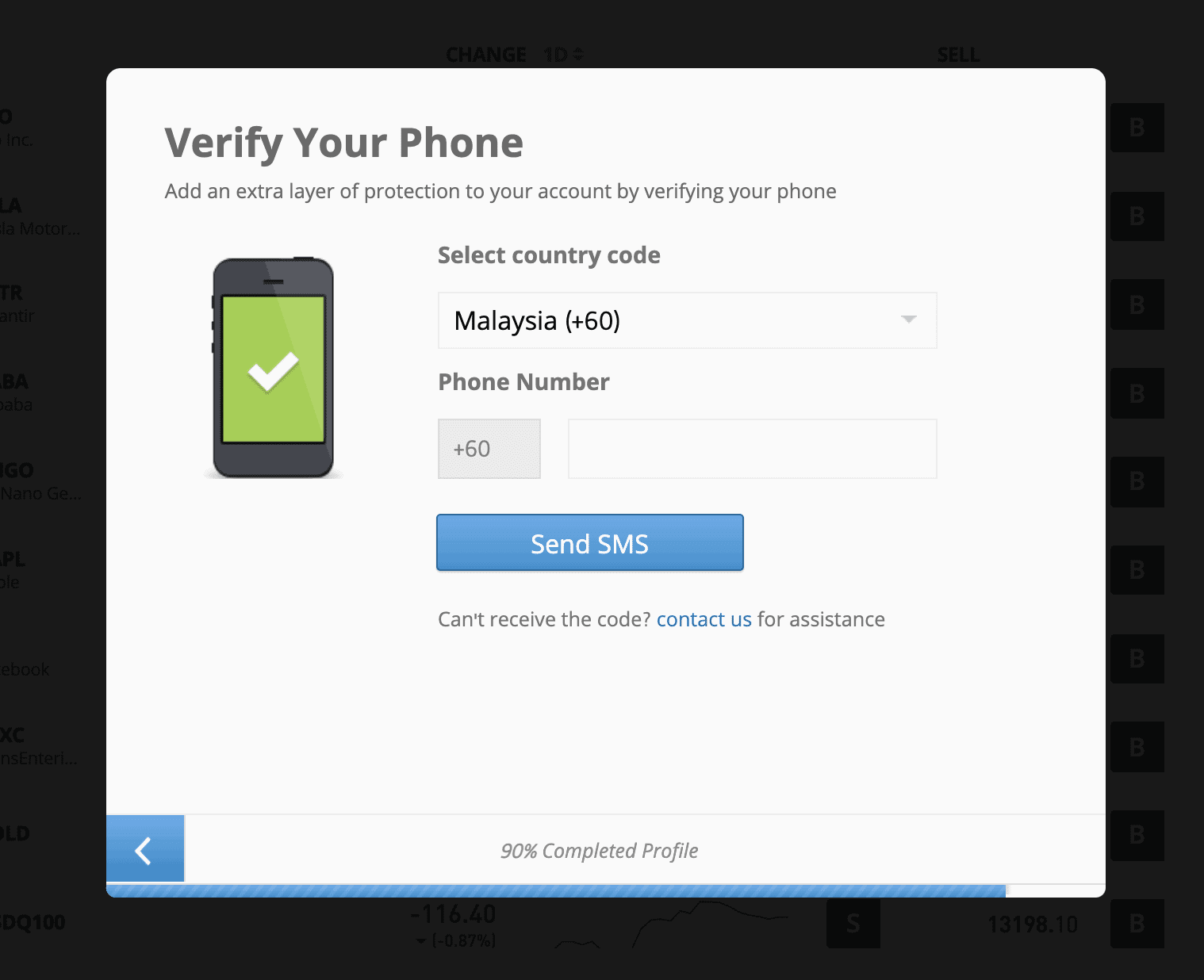 Step 8:
Like any broker, eToro requires verification documents as proof of authenticity.
You must upload both a proof of identity (POI) and a proof of address (POA) to verify your account. Your verification process will begin after you have uploaded both documents. You can scan your documents directly into the system using the eToro app.
1. Proof of Identity (POI)
You can upload a scanned copy of either your passport, MyKad (IC) or driver's license. The uploaded picture must clearly show your name, date of birth, photo, date of issuance and expiration date (if any).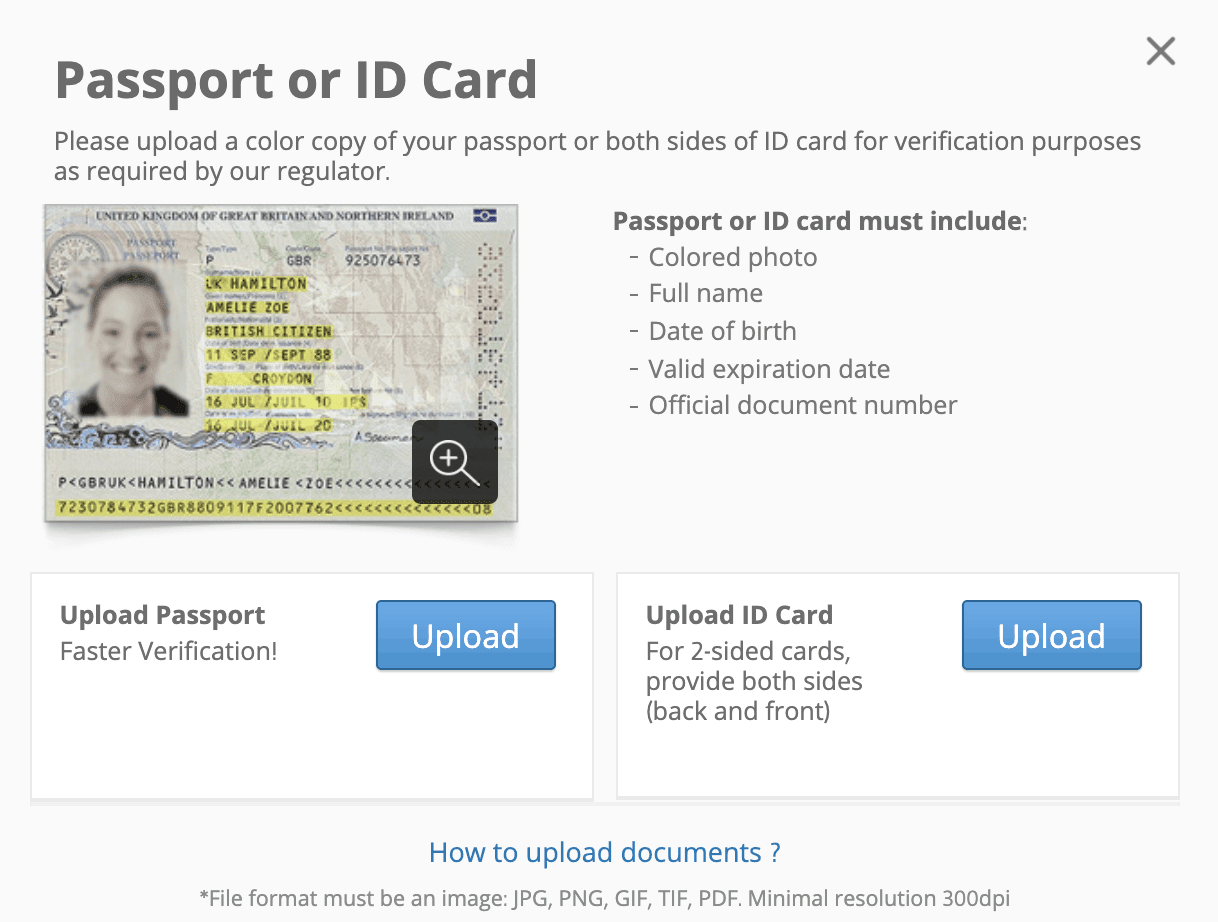 If the document has two sides and the back contains the required information, remember to scan the back and upload it.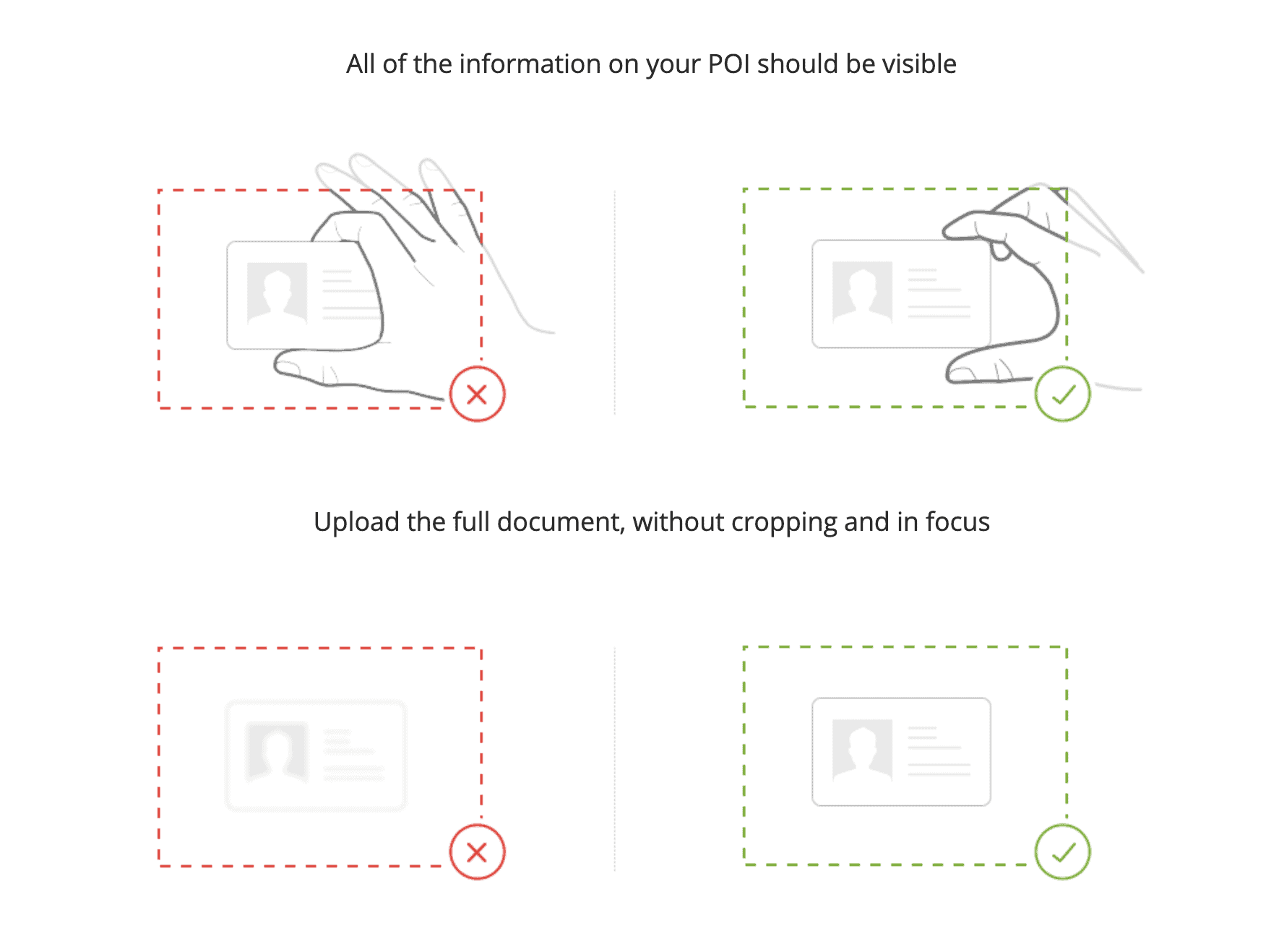 If you have your passport at the ready, upload that. eToro verification time is faster for passport submissions. You can also use your driver's license or MyKad (IC) for verification.
You can click here to upload proof of identity.
2. Proof of Address (POA)
The address proof must include the full name, address, and date of issuance (not more than six months ago). The name and logo of the issuing agency must also clearly be visible.
eToro accepts screenshots or taken photos of electronic files. You can choose to upload your Driver's License, Bank Statement, Credit Card Statement, Electricity, Utilities Bill, Tax Letter or Bill, House Lease Agreement, Letter from Employer, Phone Bill, or Internet Bill.
Note: you cannot upload your driver's license if you've used that as your Proof of Identity (POA) in the step before this.
You can click here to upload your proof of address.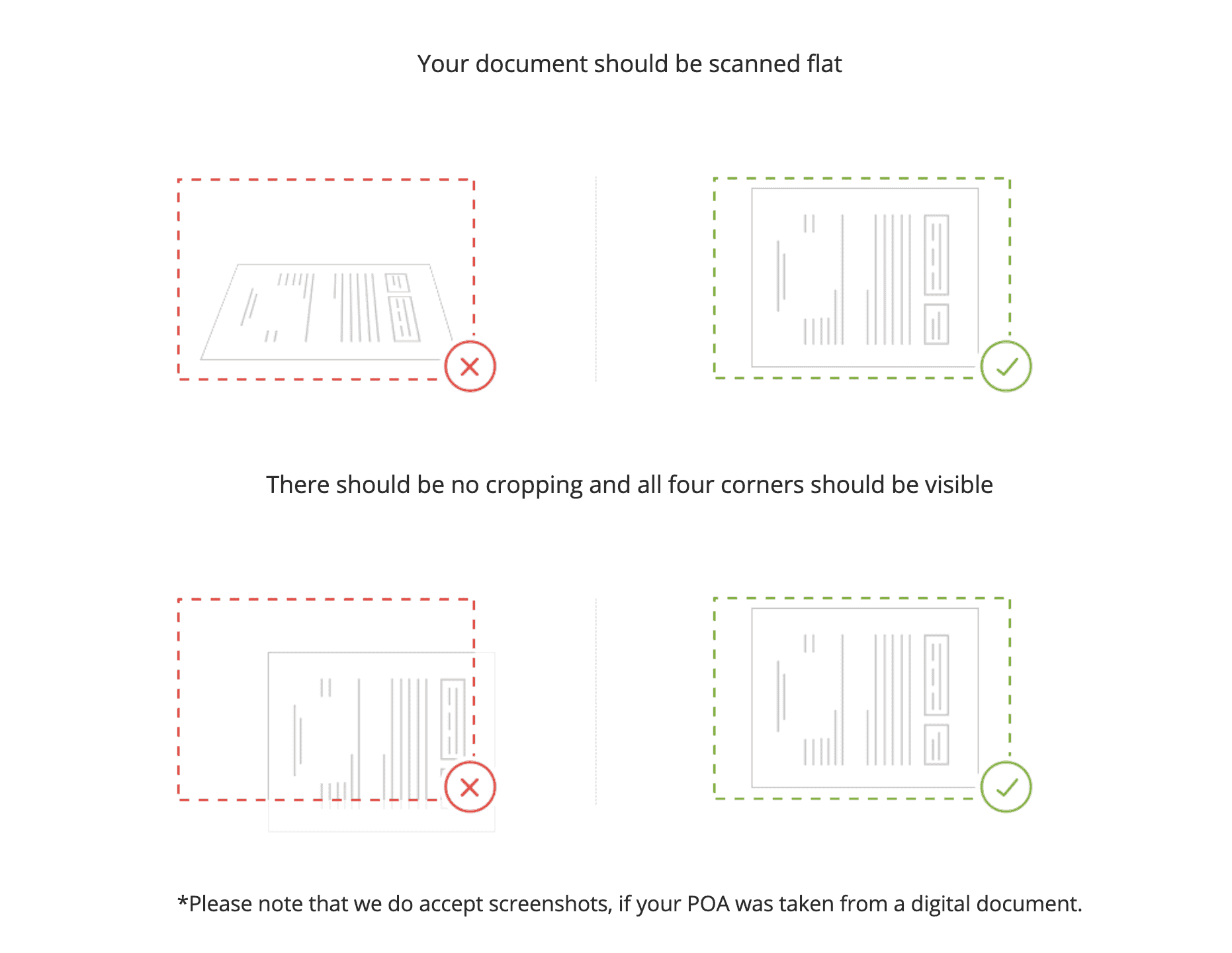 After uploading both documents, your verification process will start. The standard eToro verification time is around 1 – 2 working days. You will be notified via email once your account is verified.
You'll see a green check mark next to your username to show that your eToro account is verified. Once you see that appear, you're all set and good to go.

Congratulations! You're now an official trader.
3. I've followed this eToro beginner's guide to the end. Now what?
You're now all set to start trading! With your spanking brand new eToro account, here are a few things you should try:
CopyTrader
The most popular feature on eToro, CopyTrader, lets you 'copy' another user's trading actions. When you copy another trader, anything they do in real-time is immediately replicated in your portfolio.
Paper trade with a virtual account
You'll get a $100,000 virtual money account when you sign up for eToro, which you can use to practice with for free. It looks and feels like the real thing, but you won't be risking any real money (you also can't withdraw the profits, of course).
Begin manual trading or investing
Had enough practice? It's time to venture out and start investing! Invest in stocks with no commissions, or explore using CFDs to open short or leveraged positions. You can also perform technical research on your favourite assets with ProCharts and use the Research tab to obtain valuable market insights.
Explore the various unique trading tools
When you register for eToro, you also sign up for a suite of unique trading tools.
– Take advantage of Stop Loss and Take Profit — automatically close the position when it reaches a certain profit or loss level.
– Trailing Stop Loss — As long as the market is heading in your direction, the Stop Loss point increases proportionately.
– One-Click Trading allows you to pre-determine your investment amount, leverage, take profit and stop-loss amounts, and then apply those values to each trade on that instrument.
– Create your personal Watchlist and get real-time volatility notifications.
Disclaimer
This content on this website is intended for general informational purposes only and should not be construed as any advice on any specific facts or circumstances.